California authorities declared late on Monday that a firefighter has lost his life battling the massive fires that have burned 336,399 acres
The flames span 440 square miles in Northern California and took the life of a firefighter while mandatory evacuations are enforced by officials.
The firefighter was not immediately identifies but commanders from CAL FIRE and the US Forest Service confirmed the death, making it the sixth fatality in just a few weeks.
3,900 firefighters and 40 volunteers from New Zealand had been battling the wild fire, with temperatures in the high 90s and wind blowing up to 25 mph, making it the biggest recorded in California.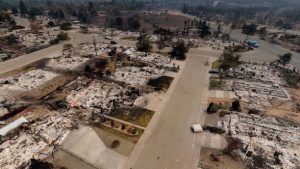 The fire spread quickly due to a perfect combination of weather, topography and abundant vegetation, fueling the hot disaster.
The fires started within an hour of each other and about 15 miles apart. The causes have not been determined yet.
When it first started on July 27th, thousands of firefighters were battling a blaze that spread into the city of Redding, putting more than 1,000 homes to the ground.
Officials declared that full containment is not expected until September 1st.
Source: foxnews.com