On Fourth of July, US Independence Day, a woman climbed the Statue of Liberty to protest migrant family separations
Therese Patricia Okoumou climbed the Statue of Liberty on Fourth of July to protest against migrant family separations; she was taken into custody upon standoff with police.
Authorities tried to talk the woman down, but she refused to leave. For around three hours, she crossed the base of Lady Liberty, sat in the folds of her dress and under her sandal.
It has been discovered that she was part of a group of protesters and declared that she would not come down until "all children are released."
Around 16 officers who were part of a team trained to perform the most dangerous rescues in the city took part in the rescue effort.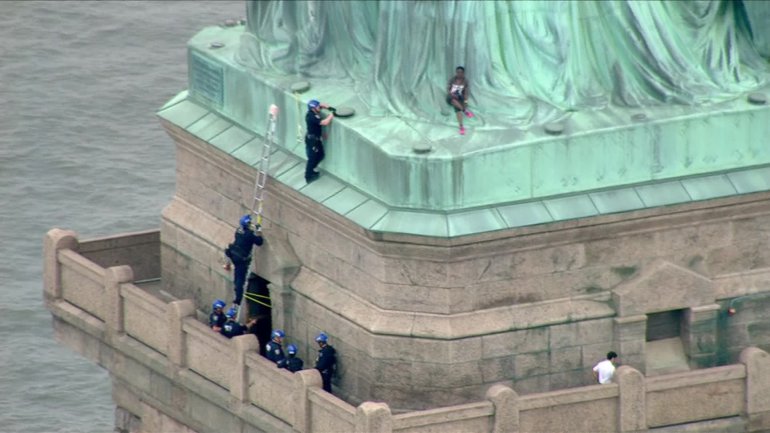 ---
"At first, she wasn't friendly with us, but we took the time to get a rapport with her so that took a while," said Officer Brian Glacken
"She just kind of mentioned the kids in Texas. I guess the whole debate that's going on about that. In the beginning, she threatened to push us off, push the ladder off, but we stayed with her," Glacken added.
---
At some point, officers managed to climb and reach her.
---
"At first she was being a little combative, then she was willing to cooperate with us. She actually apologized to us for having to go up and get her," Glacken said
---
To bring her down from the statue, officers had to put a harness and ropes on her; she followed officers' instructions and crossed to the other side of the statue, where a ladder was placed.
Even though the woman was affiliated with Rise and Resist, her climb was not part of the protest.
"She climbed without our knowledge. It was not part of our action," said Martin Joseph Quinn, organizer of the group
Police strongly believe that seven other protesters boosted her to the base of Lady Liberty.
Source: cnn.com