The Thai cave rescue operation has already made a victim. An ex-navy diver from Thailand has died while trying to take in supplies to the 12 boys and their football coach trapped in the flooded cave.
Saman Gunan, who was a former elite Thai navy diver, has died while he was trying to deliver air tanks to the boys' soccer team and their coach trapped in a cave in Thailand.
"His job was to deliver oxygen. He did not have enough on his way back," the deputy governor of Chiang Rai said in an interview.
Gunan was brought out at the surface by his dive partner. Although resuscitation measures were performed, the diver couldn't be revived.
Petty Officer Gunan is thought to have been 38 years old and decided to join the rescue operation even though he was not a member of the navy anymore.
"Inside the cave is tough. On the way back from setting up oxygen bottles, Petty Officer First Class Gunan passed out," Thai Seal commander Rear Adm Arpakorn Yookongkaew explained in an interview.
Despite the unfortunate event, he said that the rescue operation would go on and that they would do their best to save the boys and their coach.
"His buddy tried to give him first aid, but he did not respond. We brought him to chamber three and gave him another round of first aid, but he remained unconscious. So, we took him to the hospital. I can guarantee that we will not panic, we will not stop our mission, we will not let the sacrifice of our friend go to waste."
There are more than 1000 people involved in this difficult cave rescue operation, including not only professional navy divers, but also military members and even civilian volunteers.
Concerns regarding the falling oxygen levels are growing by the day. Authorities fear that the chamber where the group remained trapped may be left without any oxygen if measures are not taken quickly.
The oxygen levels started to deplete rapidly the moment a large number of people engaged in this operation and started working inside the cave network. Now, they are trying to install a 5 km long cable into the cave to ensure the group is not left without air.
The rescuing team has been pumping water out of the cave for several days now in order to lower the water levels, but things are not as easy as they thought initially.
"At first, we thought the children could stay for a long time… but now things have changed, we have a limited time," Rear Adm Arpakorn explained.
If the water levels do not drop, there are chances that the chamber where the group is trapped will be soon flooded completely due to the stream in the hills above and sinkholes that are feeding the cave with water.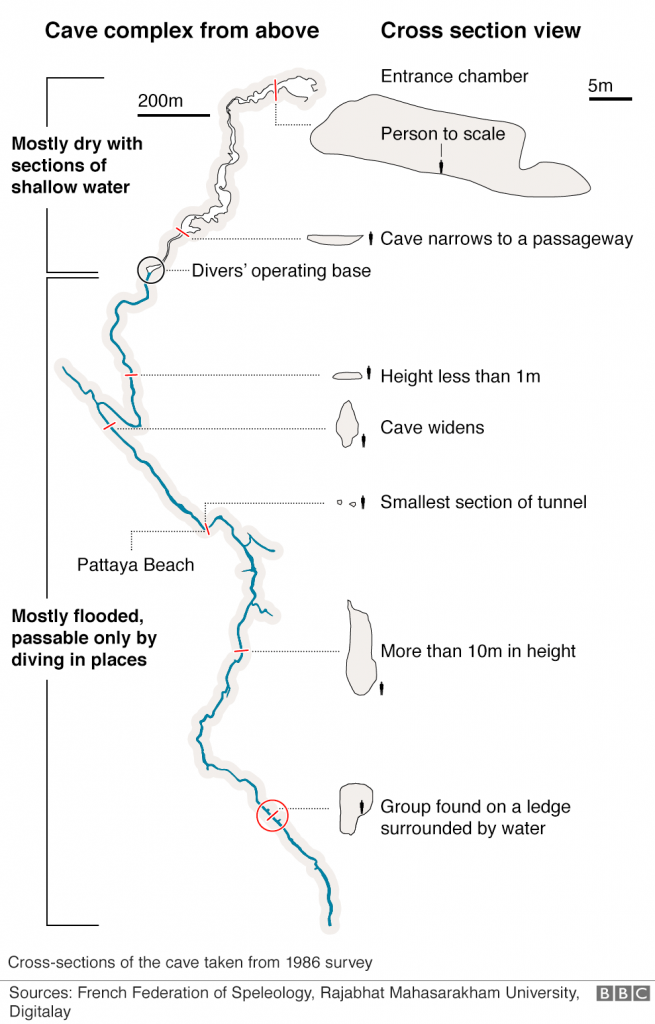 Source: bbc.com