Photos from old bushfires and fake maps have been shared on social media during the bushfire crisis.
There has been no shortage of terrifying images showing the devastation wrought by Australia's bushfire crisis, but some of the most widely shared are not real.
Photos from previous bushfires, including 2013's famous photo of a family sheltering under a pier during the Dunalley fires in Tasmania, have resurfaced while other photos doing the rounds are simply fake.
One photoshopped image that's been widely circulated shows a girl holding a koala in front of a wall of flames.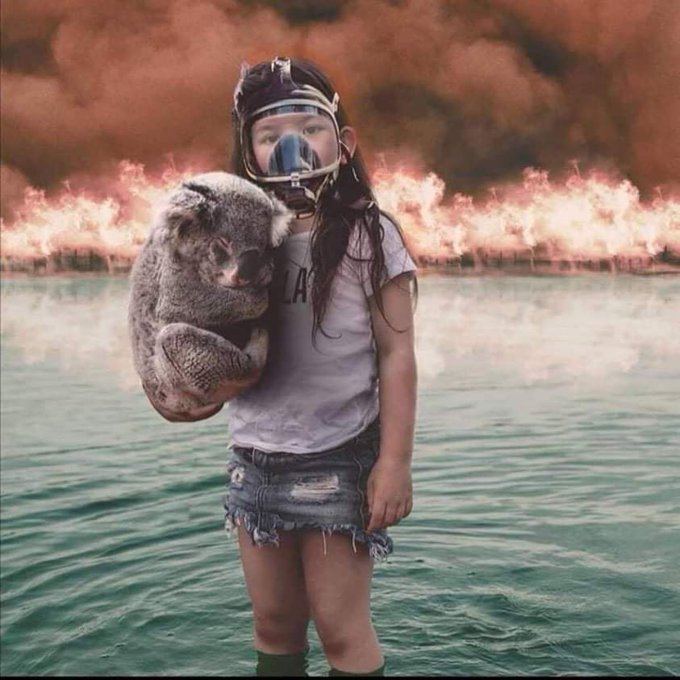 Global director of research for the International Center for Journalists, Dr Julie Posetti, is the co-author of a UN handbook on journalism and disinformation.
"After a decade of researching social media, several things are clear: while many people will inadvertently share fabricated or out of context images that they feel tell the story they're living through, there are others who deliberately seek to fuel disinformation for nefarious purposes – from attention-seeking acts of subversion, to political gain, through to deliberate attempts to risk lives through misdirection," Dr Posetti told SBS News.
For people in dangerous situations like a bushfire, she said it was crucial they steered clear of unreliable information sources and used accurate, trustworthy sources such as state fire authorities or the ABC radio and their social media channels.
However, Dr Posetti said it was important not to label art as a "fake photo".
An artist's visualisation of the scale of bushfires has been mistaken by many social media users for a real NASA map.
It's been shared by celebrities including US singer Rihanna, who has more than 95 million followers on Twitter.
Her tweet was retweeted more than 73,000 times.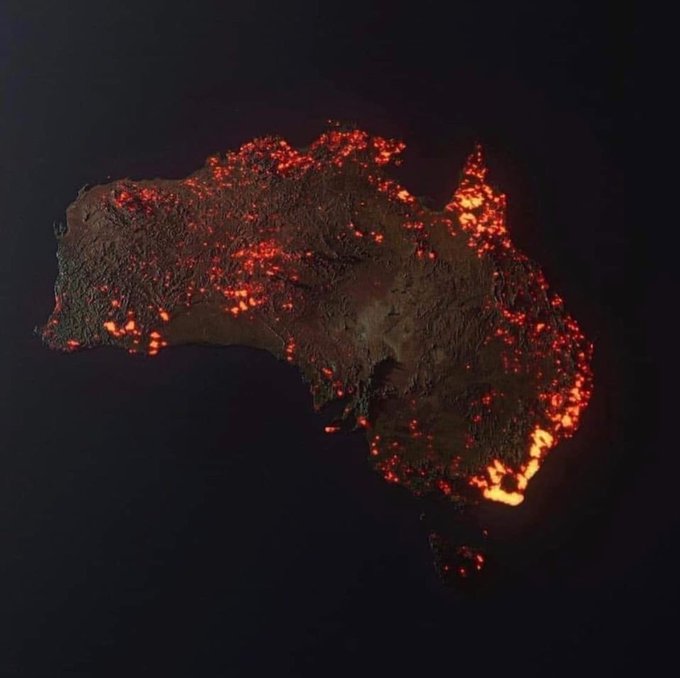 Facebook has now marked the image as "false information" in a bid to halt its spread.
Its creator Anthony Hearsey said he did not realise it would go viral.
"It has been Zucc'd because other people have shared this image with the caption "This is a NASA photograph". This image has been flagged as a result." 
Mr Hearsey explained he used NASA satellite data to make the 3D visualisation, exaggerating the orange glow.
"Think of this as a graph," he said referring to the aforementioned image.
Some manipulated images have been used to illicit funds from unsuspecting people wanting to help victims of the fires.
The Australian Competition and Consumer Commission has warned about a number of appeals raising funds for people and animals affected by the bushfires are scams.
"Scammers are cold-calling, direct messaging and creating fake websites and pages on social media to raise funds,"

an ACCC statement said.
Media outlets have also contributed to the promotion of misinformation.
US broadcaster ABC News issued a correction after tweeting a map showing "the scale of the massive wildfires" incorrectly depitcted flames in central and northern Australia.
Dr Posetti said it was not surprising that there was a demand for geographic representations of the scale of the catastrophic fires to help international audiences understand it in a local context, but it needed to be done properly.
"This is why quality journalism leveraging data visualisation is so valuable in the case of large scale disasters." 
More concerning to Dr Posetti though was the emerging evidence of "agents of disinformation" fuelling misinformation about the causes of the crisis to deflect blame from inaction on climate change.
Posts exaggerating the role of arsonists have proliferated under the hasHtag #ArsonistEmergency.
Dr Posetti said it was crucial that people were not only able to recognise exaggerated images, but detect misinformation from irresponsible and self-interested sources.
"It would be another disaster piled on top of this one if people were persuaded by bad-faith actors to disbelieve the science and the evidence staring them in the face regarding climate change as a cause of unprecedented firestorms."
Source: sbs.com.au