The currently Category 2 hurricane, Florence, is believed to regain its strength and become dangerous as it continues to move westward
Last week, hurricane Florence reached Category 4 during the 2018 Atlantic season, but eventually weakened because of an area of strong wind shear and far cooler waters.
Watch out as the seas become more dangerous
As the hurricane keeps moving and gaining strength, large swells will propagate outward hundreds of miles away from the center of the storm, which will lead to rough seas and detrimental conditions. The affected areas will be the US East Coast, Bermuda, the northern shores of the Caribbean islands and the southeast-facing shores of the Canada Maritimes. This information was provided by the AccuWeather Senior Meteorologist Alex Sosnowski.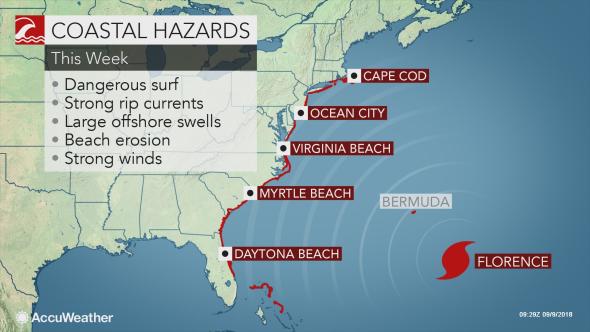 Valuable information for those who might be at the sea: if you get caught in a rip current, as hard as it can be, try and do not panic, nor fight the current. Instead, try and swim parallel to the shore rather than towards it until you are free of the current's grip. If you panic and try and fight it, the current will draw you even more deep instead of letting you go. Then, swim at an angle, away from the current, toward the shore.
"The surf may be especially hazardous, since most lifeguards are not on duty past Labor Day," Sosnowski said.
If you are operating a small craft, heed all advisories that are issued and stay in port if necessary. Those operating larger vessels such as cruise or cargo ships might need to reroute and avoid Florence's dangerous seas.
"Residents and interests living along and near the Carolina coast and even up toward the Virginia Capes should closely monitor Florence and be ready to put their hurricane plan in place. If you do not have a hurricane plan in place, do so immediately," specialists warned.
Source: accuweather.com